END OF SUMMER SALES EVENT... EXTENDED!
The Ideal Opportunity to Upgrade Your Topical Analgesic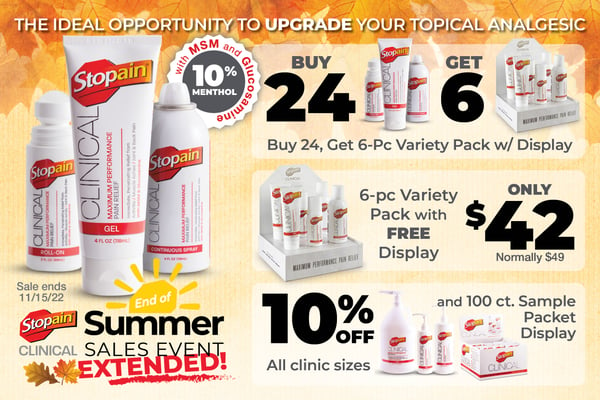 The Stopain® Clinical End of Summer Sales Event is here! Get the professional pain relief solution that has healthcare professionals buzzing with excitement. These deals are available now from these participating equipment suppliers. Buy now before the sale ends November 15th!

STOCK UP!
BUY 24, GET 6 (Plus Display!) FREE
Buy 24 pieces of Stopain Clinical and get the 6-piece Variety Pack and New Countertop Display for FREE! What a great way to stock up on this Maximum Performance Pain Relief solution that is exclusive to healthcare professionals.


GET STARTED
6-PIECE VARIETY PACK with FREE DISPLAY
For only $42, you get the brand new retail countertop display stocked with 6 pieces of patient sizes (2 Gel Tube, 2 Roll-On, and 2 Continuous Spray). This is the perfect way to get started selling Stopain® Clinical at your clinic.


USE IN CLINIC
10% OFF PUMPS & PACKETS
Using Stopain Clinical in-session with your patients and clients results in more sales when they pickup and tube or roll-on to use at home, between visits. During this Sales Event, we're offering 10% OFF all clinic sizes (1-gallon, 32 oz. and 16 oz, Gel Pump Bottles) and the 100-count Sample Packet Dispenser.

Questions?
If you have any questions regarding the Summer Sales Event, or any of the Stopain® Clinical products, please contact us!